Between the Wars with Robert McCloskey
Picture Books and Art
We studied the time between World War I and World War II by looking at some picture books by Robert McCloskey that were written during that time period.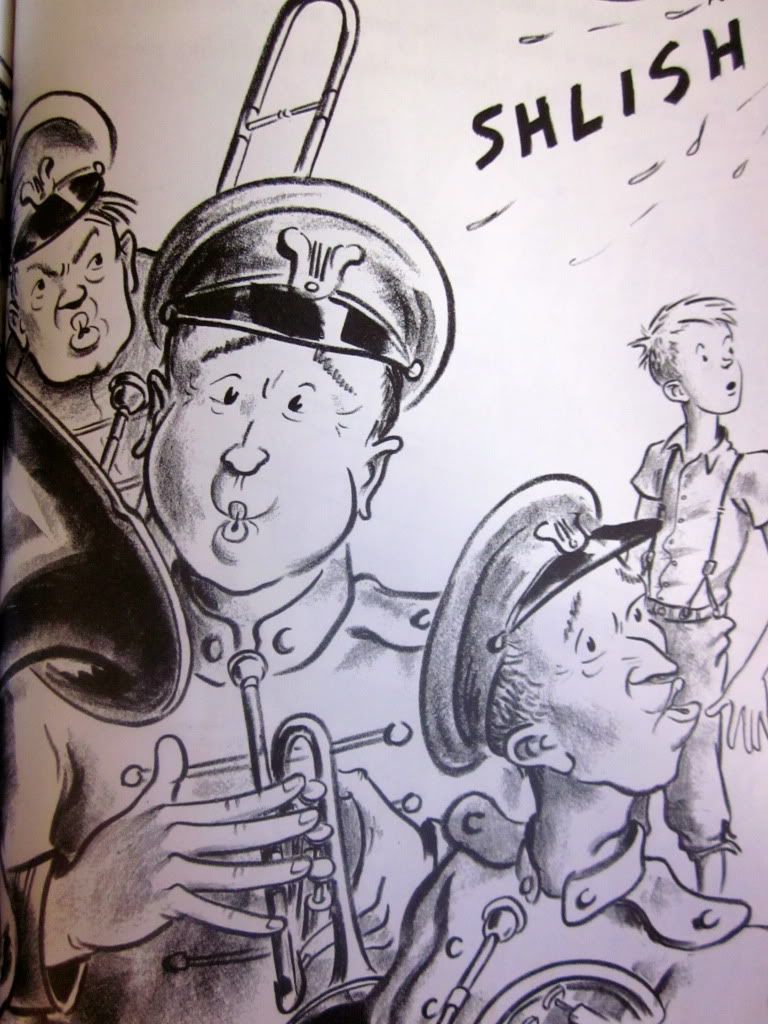 "The mayor gave the signal to play but (they couldn't play) because their lips were all puckered up."
We read Lentil, which is about a boy who saves the day with his harmonica playing when the band cannot play after watching a lemon being eaten.
"Look out!" squawked Mrs. Mallard, all of a dither. "You'll get run over! And when she got her breath she added: "This is no place for babies, with all those horrid things rushing about. We'll have to look somewhere else."
We also read Make Way for Ducklings. First published in 1941, the book tells the story of a pair of mallard ducks who decide to raise their family on an island in the lagoon in Boston Public Garden, a park in the center of Boston, Massachusetts.
"They made such a noise that Michael came running, waving his arms and blowing his whistle."
Mrs. Mallard
leads
the ducklings ashore and straight to the highway in hopes of crossing to reach the Garden, but she has trouble crossing as the cars will not yield to her. Michael, the policeman who fed peanuts to the Mallards, stops traffic for the family to cross.
They both are lovely stories that show the simplicity of life and the values of the time period. Sometimes using picture books with older children can be a nice change of pace.
The illustrations are worthy of imitating. We got our charcoal and drawing pencils, which are new art materials for us to work with.
Using the tutorial at Hodgepodge, we drew pictures of Lentil, focusing on facial expressions.
Patriotism and the 1940's
Lentil shows a lot about how patriotic Americans were in the 1940's.
This led us to listening to Patriotic songs, and to learning how to fold a flag. I printed out this image of a flag and had him fold this image as if it was a real flag.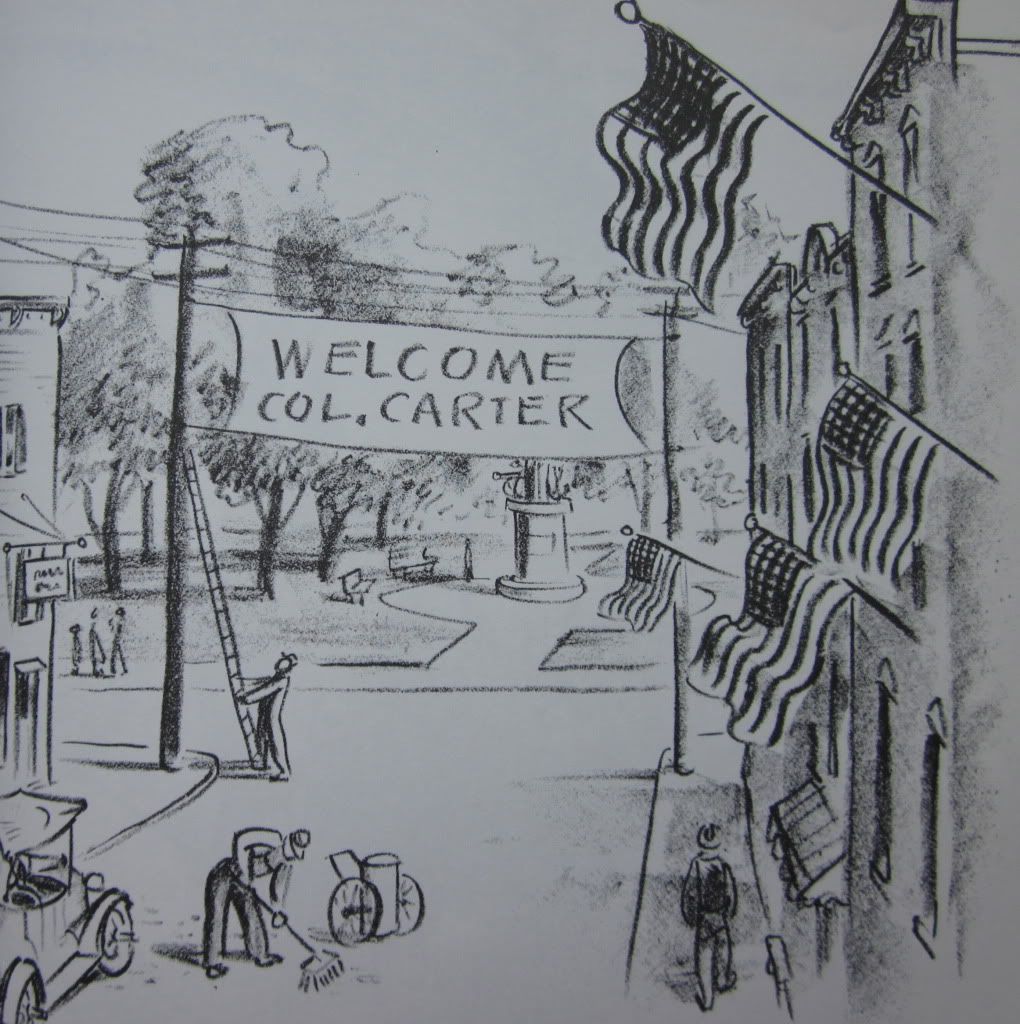 "Then everybody sang and they all marched down Main Street behind the colonel's car."
Mapping the Neighborhood
Make Way for Ducklings talks about all the places in Boston, Massachusetts, and Lentil has many pictures of the town he lives in.
We decided that we should look at a map of our neighborhood, too.
We looked at it and pointed out the different places around town.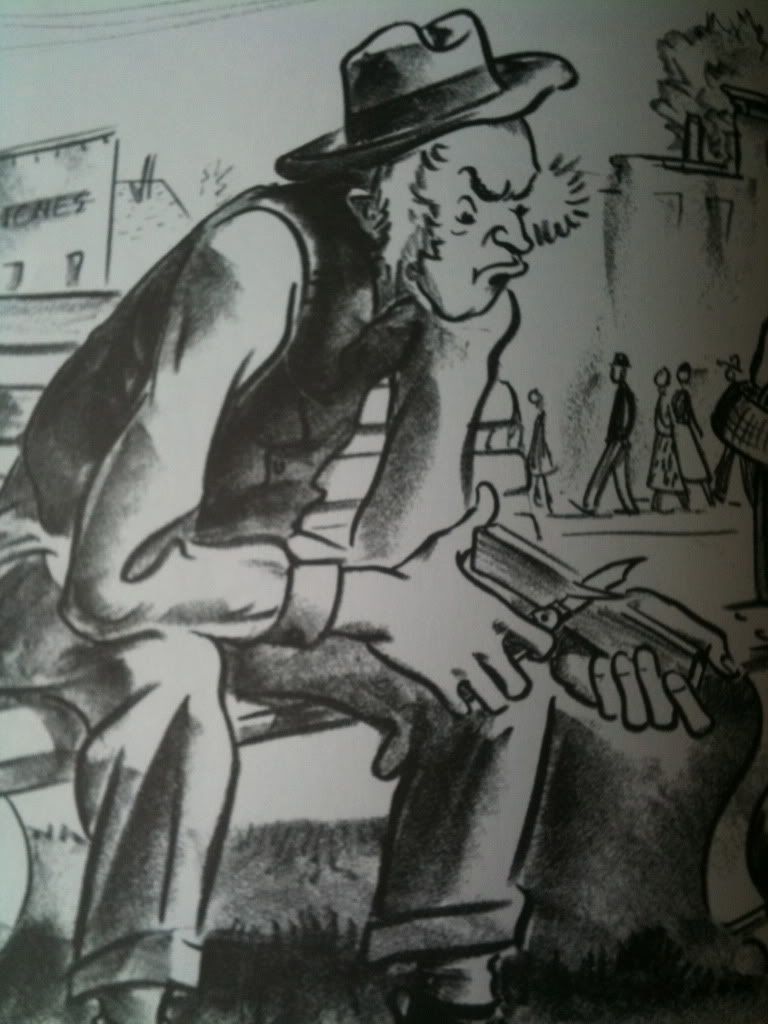 "He just sat on a park bench and whittled and grumbling."
Handicrafts: Whittling
Quentin has been interested in whittling for some time now, so this was a good time to focus on this handicraft. Here are some easy instructions for whittling a whale from Ivory soap.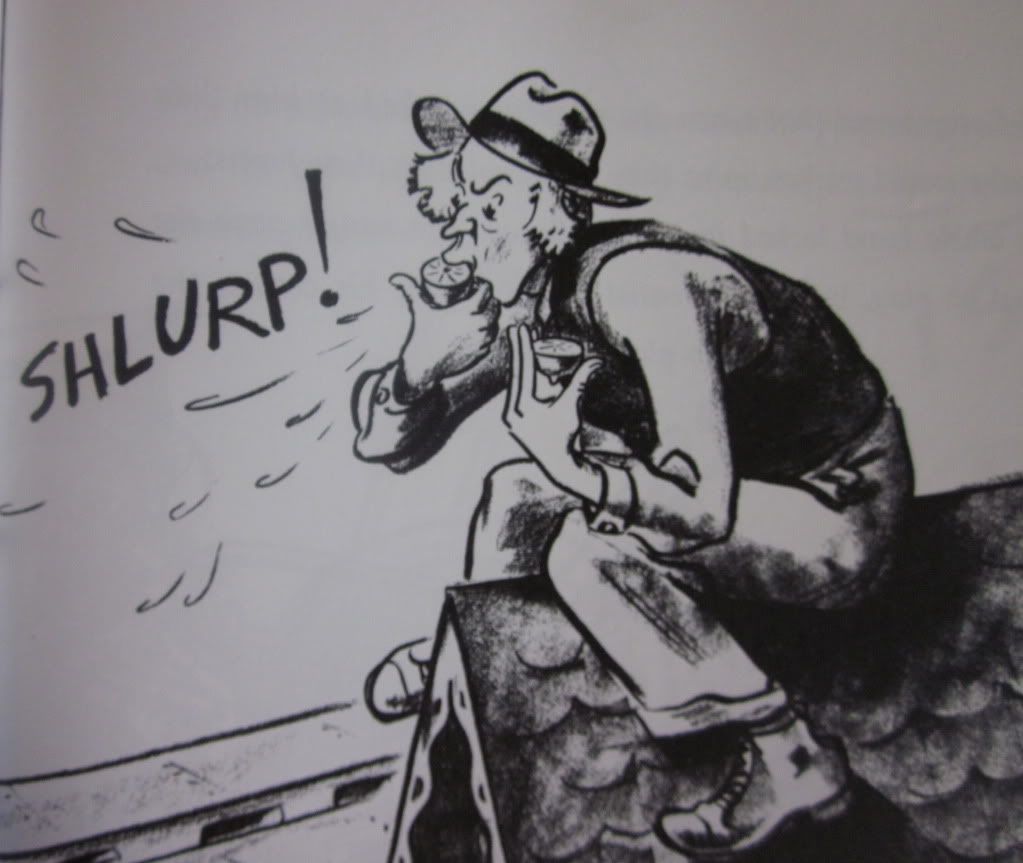 "There sat Old Sneep, sucking on a lemon."
Lemons
Lemons are such a feature in Lentil, that we felt we must do something related to them.
We divided them into fractional parts and compared them to musical notes. They made up their own musical pieces.
We reviewed how we had experimented with them when we learned about acids and bases.
James
made pink lemonade cupcakes for a Book Club teatime.
I found these adorable cupcake liners for them.
and then the role of the musicians.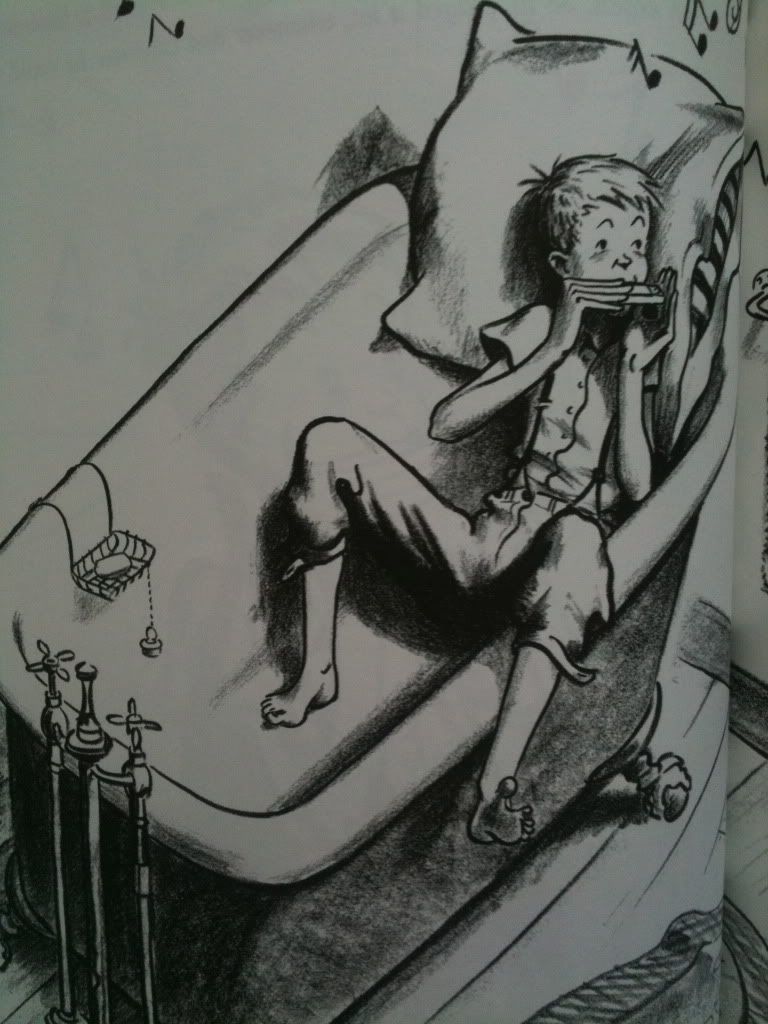 "His favorite place to practice was in the bathtub, because there the tone was improved one hundred per cent."
We talked about why Lentil found that the tone of the harmonica he played was "improved one hundred per cent" when he played in the bathtub. The hard, smooth surface of the bathtub absorbs very little sound, so the sound would reflect back and forth before eventually dying a way, boosting the harmonica's sound intensity. With many reflected sound waves bouncing around in the bathtub, some sound waves wind up traveling farther than others before finally arriving at your ear, making the sound seem to hang in the air long after each note is made. This would result in a richer and fuller sound.
We made our own homemade harmonicas, well, actually they are more like kazoos.
It has a reed made out of a piece of paper.
As you can see, the harmonica is a bit more complicated, but it does give the idea of how the vibration of the reeds work.
If you would like to make a
Popsicle Stick Harmonica/Kazoo
you will need:
2 Popsicle Sticks (we used the wide ones)
2 Rubber Bands (you could also use string)
A strip of paper the same size as the Popsicle Stick
2 toothpicks cut the width or just wider than the Popsicle Stick
Sandwich the paper strip in between the two Popsicle sticks. Wrap a rubber band around one end until it is snug. Slide a toothpick to the inside of the rubber band. Sandwich the last toothpick at the other end of the Popsicle sticks, and wrap with a rubber band. To play, simply blow or suck air into the harmonica. If you pinch the Popsicle sticks together at different parts along the harmonica, you can create different sounds.
1940's Cooking: Mock Apple Pie
We also made a Mock Apple Pie, which uses Ritz crackers instead of apples. Born of the thrifty ingenuity of the 1930's, the pie grew in popularity during World War II when apples were expensive and in short supply. The pie is quite similar in texture to a soft and tender apple pie.
Using Ritz Crackers
2 teaspoons cream of tartar
Zest and 2 tablespoons juice from 1 lemon
2 teaspoons of vanilla extract
36 Ritz crackers, coarsely broken
2 tablespoons unsalted butter, cut into small pieces
1 teaspoon ground cinnamon
Preheat oven to 425°F. Break Ritz crackers into large pieces and put them in your bottom pie crust. We used store-bought frozen pie crusts, but you can make your favorite pie crust recipe instead.
In a medium saucepan combine sugar, water and cream of tartar, stirring until sugar has dissolved. Bring mixture to boil over high heat, stirring occasionally, then reduce heat to medium. Simmer for 15 minutes or until mixture has reduced to 1 1/2 cups. Stir in zest, juice and vanilla. Set aside to cool for 30 minutes.
Pour syrup over crackers and dot with pieces of butter then sprinkle evenly with cinnamon.

Place top crust over pie. Seal and flute the edges. Cut several small slits into the top crust to vent the steam. Bake for 30 minutes or until golden brown. Cool and serve.
sources and inspiration: