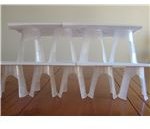 What interesting things are you doing in your history and geography studies?
I hope that you continue to link your new (and old) posts with any history and geography topic to this meme every Thursday.
Please include this button on either the post you have linked or your sidebar or mention All Things Beautiful History and Geography meme in your post with a link. All posts that do not link directly to a history or geography post will be deleted. Remember that I am pinning all posts to Pinterest.