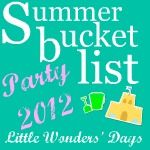 For Those Bored Moments, Some Quick and Easy Activities
Doodle Art Work
Lego Board Game
Balloon Play
Paper Helicopter
Make a paratrooper and parachute!
Sand and Sea pictures
Marble Painting
Ring Streamers
Paper Waterlillies
Paper Plate Tropical Fish or Whirlygig Fish
Handprint Peacock Pictures
Paper Piggy Bank
puzzle piece aliens
Ladybug picture
Firefly picture
Celery Printing
Pasta Trees
Pussy Willow branches picture
Bundle Pencil Eraser stamping
Okra flower prints
Make Page Corner Bookmarks
Make Paper Plate Frisbees
Something to Make, Something to Do
Batik
Jelly Marbles
I Spy Jar
Make a Kite
Recycled Styrofoam Tray Craft With Paper Mache
watercolor silhouette
God's Eyes
Homemade Hourglasses
Make Masks
Make a
Kaleidoscope
Give the Disposal Cameras and let them make books of their pictures
Make Lacy Lanterns
Make Glow in the Dark jars
Make an Oil Lamp
Just Fun
Candy Land Party
Puffle Party
Play with Balloons!
Pirate Party
Night Party with glow in the dark balloons
Under the Sea Party
Make an Obstacle Course
Make Scratch off cards
Bake marbles.
Camp outside, even if it is just the backyard
Family Fun
Play board and card games.
Make a memories jar.
Use conversation starters at dinner.
Make Concoctions for Play
Make fizzy magic rocks.
Corn syrup painting
make edible playdough
make moonsand
make floam
Naturally Inspired
Paint the sky.
make images on stone
make a twig trivet
For The Boys
make a periscope out of pcv pipes
make boats out of sticks or corks and float them!
make toy airplanes, boats, cars, etc out of recycled bottles
make juggling balls
make a mini marshmallow popper
make toy parachutes, planes
make building pieces from cardboard
make clothespin cars, planes
make pirate ships and maps
buy nuts and bolts for them to build with
To see these ideas in action, take a look around my Pinterest boards.
Want to see my Summer Bucket List last summer?