We had many connections to nature this month. Sometimes we were out in it, enjoying it. Some days we did projects inside, still keeping connections to the living things outside.
3
Our first trip to the beach of the year.
4
Katie began bringing in bouquets of flowers and placing them all over the house.

Although we still had to dress in warm clothes, the weather was getting warm enough to be outside in the afternoons.
7
A snake visited our porch.
Climbing trees and playing outside is becoming more frequent now that the weather is getting warmer.

8
James was excited that the trees were beginning to have buds and sprouting leaves. He had to take some pictures of them.


10
More of Katie' bouquets.
11
Katie and Alex planted their garden.
14
The morning beam of sunshine struck one of Katie' tulips just perfectly to make it glow. It was amazing.


20
More of Katie's bouquets.
Quentin went with Katie this time and he picked his own flowers.
24
Katie enjoys getting wet in a rain shower.
25
A snake made some excitement in the day as he tried to get in the house.
26
James took pictures of the clouds.

 
28
Lots of long walks and bike rides not only this day, but many days throughout the month.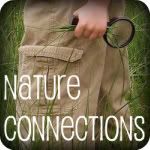 Nature Connections
is a collaborative link collection
posted at the end of each month
on Living and Learning.
Its purpose is to showcase photos of children
enjoying nature to inspire all of us to get outdoors more.